African Communities Empowerment ~
St. Joseph Educational Centre
In an effort to expand the cultural awareness and educational experience of their students, Ms. Agnes Ninsiima and Mrs. Marsha Kalkowski
forged an electronic friendship and a pen pal program between their students.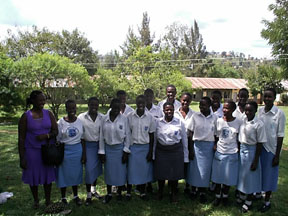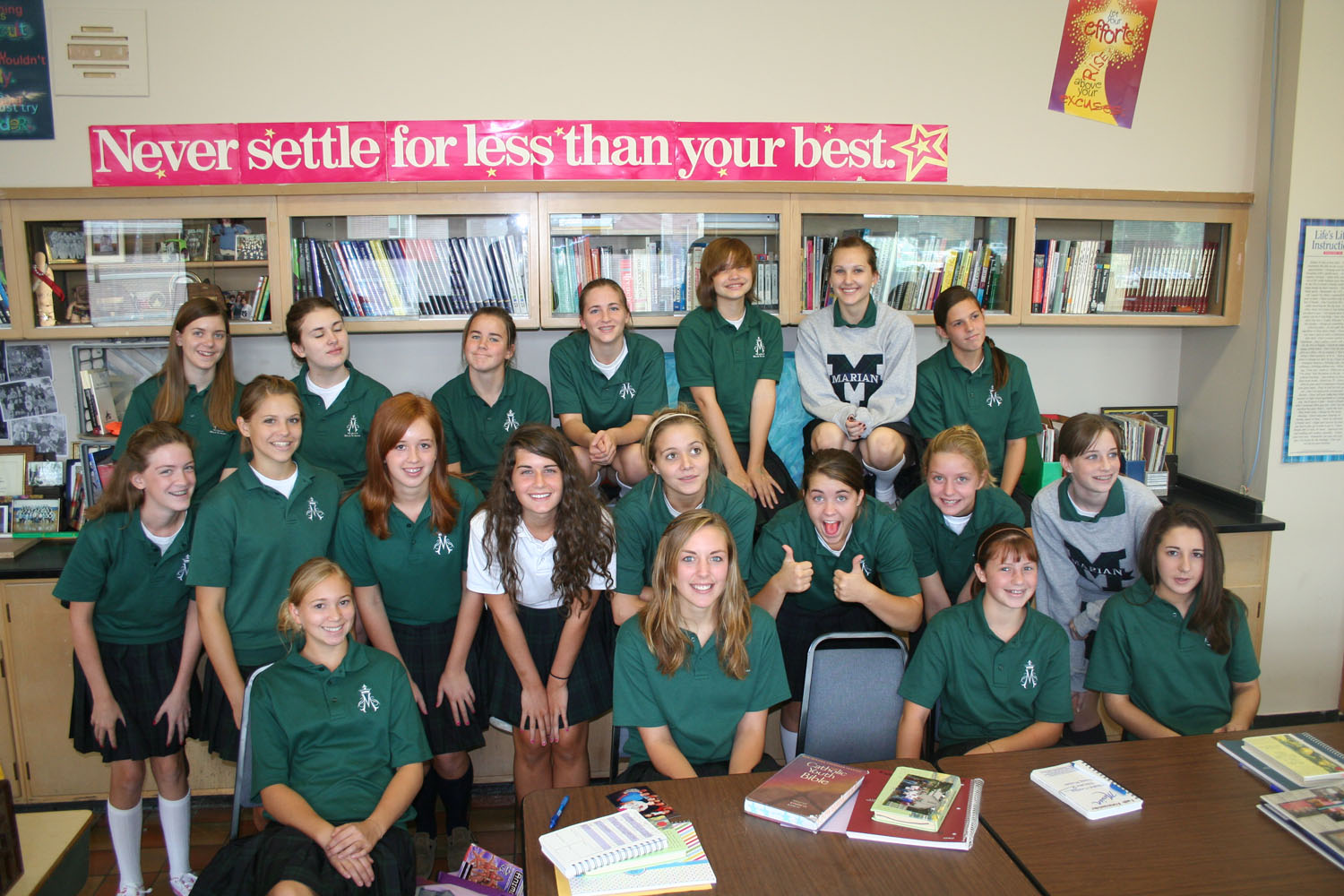 Ms. Ninsiima recently took time to explain a bit about the school... via email...

"Well, the school operates under African Communities Empowerment. It was established in 2001 as one of the efforts of our organisation to educate and empower Girl-orphans and Girl-children of the poor population. Because of HIV/AIDS, family systems have broken. The disease often robs the family of the main breadwinner leaving the home impoverished. This sort of situation has caused a high rate of school dropouts. The people who have been the first victims are girls. As soon as a family is faced with having to prioritize its needs, a girl is given least consideration, as it is believed by many that, at least she can get married. Amongst the Banyankore tribe of Mbarara, a girl may apparently earn her family as many as 12 heads of cattle. This high bride price motivates many poor people to prefer marrying off their daughters at an early age than keep them in school toiling to pay their tuition.

Also, partly due to society expectation and partly due to dropping out of school, a girl of 16 years in Mbarara is likely to get pregnant. Pregnancy is often undesirable by the girl or boy in question thereby causing problems for the girl. If in school, she drops out. If she is to get married, she ends up either becoming the second wife or married to a man much older than herself. She is however, left with no choice as she faces real problems like the need for hospital visits and later the needs of the child. The victims of the situation go on to live a life of much misery, divorce, remarriage, abortions, turning to multiple partners and catching HIV/AIDS.

So our school was founded to address such social problems, empower poor girls and give them a future. We largely operate the school on donations so as to make it affordable for poor girls to aquire education. Our girls are either orphans or daughters of very poor people. We ask them to pay a little fee that is just enough for their feeding.

It is a secondary school (from Senior one - Senior 6) that takes in graduates of elimentary school. We teach the National Standard Syllabus in nine disciplines which are all examinable. These include Geography, History, English Language and Literature, Religious Education, Commerce, Biology, Chemistry and Mathematics. These are taught from Senior one to Senior Four after which students sit for the Uganda National Cerficate Examination. Those who pass are promoted to HSC (High Standard Class) which is Senior 5 and Senior 6. At this level, students chose any 3 disciplines of their interest out of the 9 disciplines done at senior 4.

At the end of the two years of HSC, students sit for the Uganda Advanced Level Examination and are passed out to go to Universities and other Professional Institutions.

In addition to the National recommended disciplines, our school offers the girls an extra package of practical skills in sewing/tailoring, computer literacy and Home Economics.

Some of our students walk 12 kilometres from their homes every morning to attend school and walk back in the evening to their homes. We have a boarding section at school that offers accommodation of about 300 students. These sleep at school. But there are those who are too poor and cannot afford requirements of the boarding section like beddings and other things. These have no choice but to commute from their homes. It is quite heavy for them, they reach school when they are tired, sometime they dose in class, but it is better than nothing. These are about 200. The overall enrollment is 500."

In a small effort to continue to educate the students of Marian High School about their sisters in a school half-way around the globe, this simple webpage has been created as a temporary resource page. "We have no website for the school. We have not been able to create one because of financial limitations. But we are hopeful that we shall have one soon.

The Marian girls sent a little friendship package to Uganda and here are their new friends saying "Thank You"
for the Marian t-shirts, newspapers, yearbooks and other small gifts.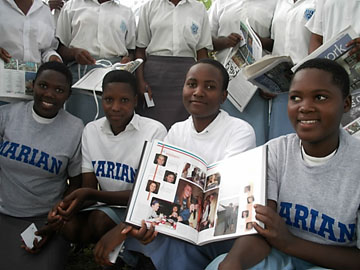 ---
Contact Ms. Agnes Ninsiima at acempowerment@yahoo.com for more information about African Communities Empowerment.
Contact Mrs. Marsha Kalkowski at mkalkowski@omahamarian.org for more information about Marian High School.
Created 7/13/08