Putting Your Publication Online
Nebraska High School Press Association Fall Convention
2000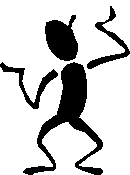 Do as much WWW browsing as you can. This is the only way to get a sense of what is possible and what works. Check out my list of Publication Resources to get you started.
Start Small but keep the Big Picture in mind.
Appoint someone as Online Editor and allow them the time to work out the details.
Be creative in making the site as interactive as possible. Your content is important, but so is the form. Let your views feel like they have control and options.
Don't re-invent the wheel. Use "View Document Source" on your browser to see how other WWW designers made their page. Use Copy and Paste to save you time.
Make a template and use it for consistency and ease of design.
Always provide navigational tools. Make it simple to go from page to page or from top to bottom and back to home.
Always tell who you are and give an opportunity for feedback. It is also a courtesy to have a date stamp at the bottom, too.
Keep your images small - less than 100k. Your viewers won't wait for them to load. Always provide alt tags in case someone is viewing by text only. If you provide height and width tags, the images will load faster, too.
Don't use UNDER CONSTRUCTION graphics - by the very nature of web publishing, that's overly and completely redundant!
Don't leave the grey background. Use white if nothing else (#FFFFFF).
If you use frames and have links inside, K.I.S.S. Browsers will get lost easily. Truly keep it logical and simple.
Use <title> and <meta name> tags so you will be searchable!
Make your site easy to modify. Make sure your outgoing online editors leave a clear path for the incoming editor.
When formatting, use blank lines and spaces to separate elements so you can read code easier. It also helps to use <!------------------organizational code--------------!>
Test all your links before you bring in the public.
Proofreading and Editing are essential online. Don't forget that!

Putting Your Publication
Online - NHSPA 2000

Putting Your Publication Online Break-out Session by Mrs. Marsha Kalkowski, Omaha Marian. She does not pretend to be an expert on Web Design or even have any answers, but she does have interest, enthusiasm and motivated staff members from the past years to know what has worked for her students. If you want to contact her for more information, try email at mascu@marian.creighton.edu