Marian Trap Team
Scholastic Clays Target Program
Ten Marian students trekked to Doniphan Nebraska on June 25th to compete in the Amateur Trap Association/ScholasticClay Target Program (SCTP) state meet. At stake was a trip to the high school national SCTP championship for the top five squads at the meet.
After shooting 200 targets each the Marian squad of Kara Stockdale (05), Aly Peeler (05), Sarah Morgan (06), Rachel Miller (07) and Katie Stockdale (08) finished third, right behind a team from Creighton Prep. The squad of Talia Mangiameli (05), Cathy May (05), Nora Kiteley (07), Megan Leonard (05) and Liz Hopkins (05) finished in fifth spot and also qualified for the national meet. Two of the five squads which qualified for the national championship in the senior novice division were from Marian.
Next stop for this group was the Grand American World Trapshooting Championships. The first Grand American was held in 1900 and has been held in Vandalia Ohio since 1924. Creighton Prep is the defending national champions and teams from Nebraska have placed in the last three national championships. The two squads from Marian will compete with 200 other squads from all over the United States for the SCTP High School National Championships.
Marian Trap Team
at the
Grand American
Vandalia Ohio
End of an Era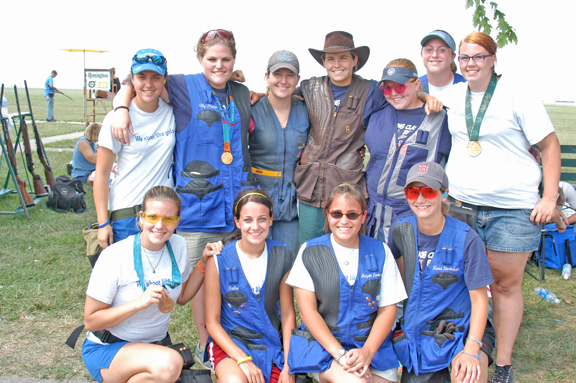 Marian Trap Team with
Kim Rhode (third from left top row)
Two Marian squads travelled to Vandalia Ohio for the SCTP National Championships. The Grand American is the largest trap shoot in the world. It was moved to Vandalia in 1924 and after 81 years at the same location this year was the last in Vandalia. This "end of an era" event made the experience particularly memorable.

Megan had two perfect rounds at the grand

Cathy crunching a target

Katie inkballs a target

The grand is something that has to be experienced to be understood. Traps as far as you can see, vendor buildings and people everywhere. One of the highlights of our experience was meeting Kim Rhode, three time Olympic Gold Medalist in shooting events.

The morning shoot was led by Sarah with a 98. The afternoon saw Katie shooting a 99. The two squads combined for 14 perfect rounds and each shooter shot a better score than at the state shoot.

At the end of the day both squads wound up with the exact same score. An amazing situation. Both wound up in the top ten in the nation. Two squads from the same school with the same score and both in the top ten. A great ending to a great season.


Talia breaks another

Sarah smashes a hard right