Marian Trapshooting
Nebraska State Games 2011
Lincoln Ikes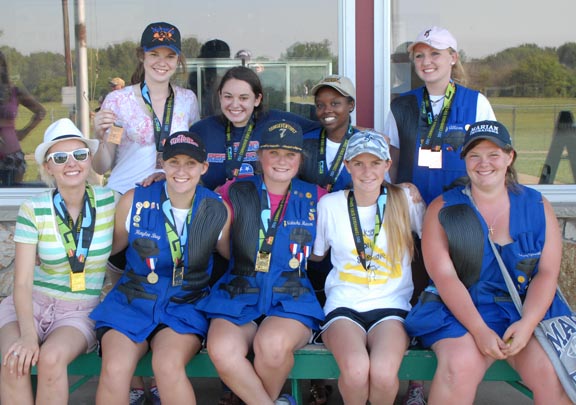 More than 200 high school and junior high shooters converged on Lincoln Ikes for the 2011 Cornhusker State Games High School Trap Meet. The meet format is 50 singles targets and 50 handicap targets. Handicap yardage is determined by the score in singles.
The day was hot with actual temps in the high 90's and a heat index over 110 degrees.
2011 Cornhusker State Games; Lincoln Izaak Walton League
Medals to three places
Aly Heisler 3rd Place Ladies Singles
Alexa Baumer 1st Place Ladies Handicap
Kelsey Genoways 3rd Place Ladies Handicap (won shootoff)
Rebecca Flores 3rd Place Ladies Handicap (tie)
Natalie Bialas 3rd Place Ladies Handicap (tie)

Alexa Baumer 1st Place Ladies Overall
Natalie Bialas 4th Place Ladies Overall (tie)
Rebecca Flores 4th Place Ladies Overall (tie)

Squad Blue
(Alexa Baumer, Haylee Frisbie, Natasha Mason, Brianna Rakes, Kelsey Genoways)
4th Place Handicap Team (boys/girls together)
1st Place Ladies Overall Team

Squad White
(Natalie Montanez, Aly Heisler, Rebecca Flores, Jackie Tvrdik, Kanisha Roberts)
3rd Place Ladies Overall Team