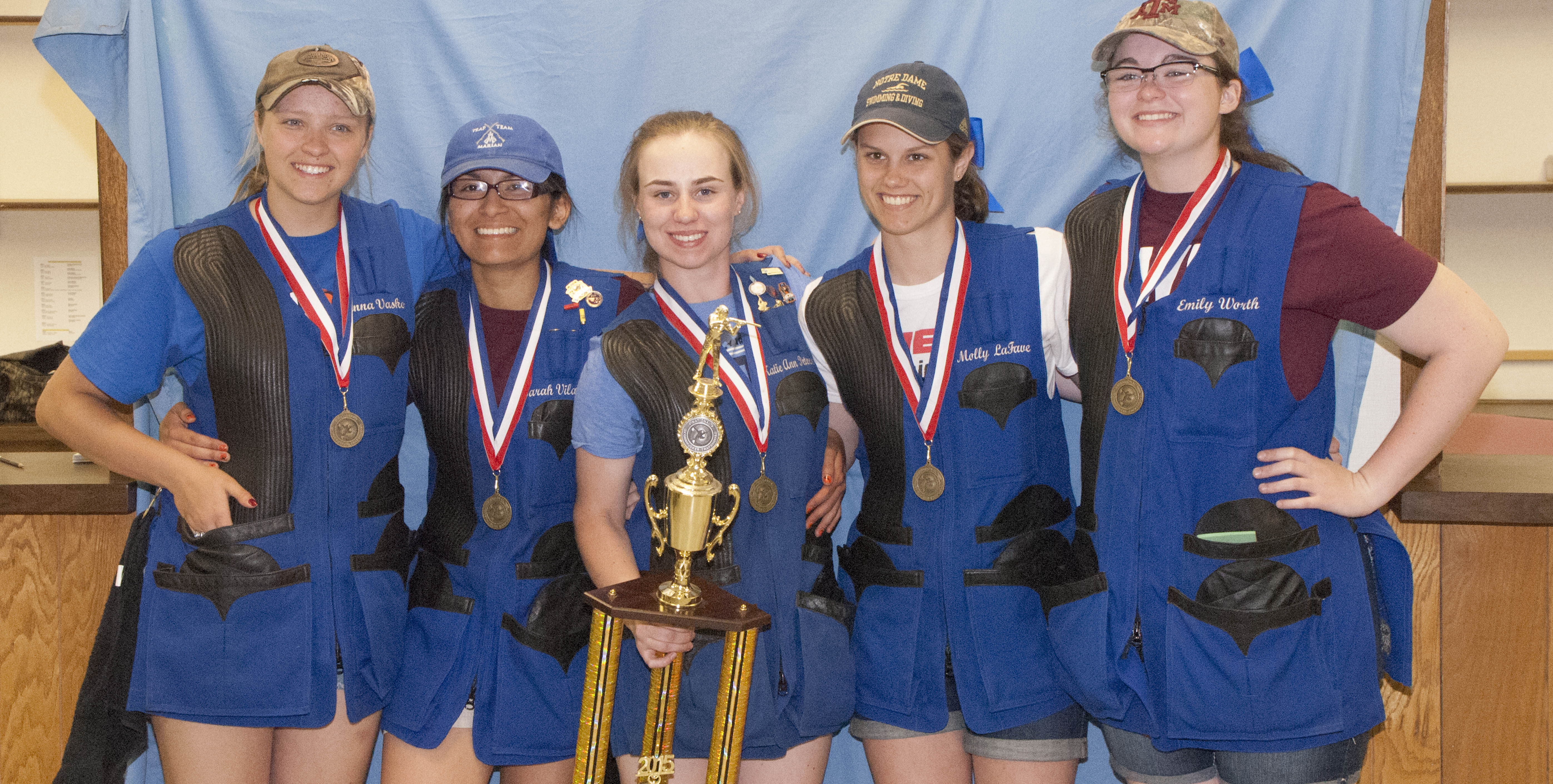 On May 1st, 30 Marian, Duchesne and Conordia shooters trekked to Doniphan Nebraska for the 46th annual Cornhusker Trapshoot. This year there were more than 2,500 competitors. Friday was the high school singles event. Due to the number of competitors the program was changed to 75 singles targets

The weather was almost perfect for a trapshoot with highs in the 70's and very little wind.

Singles Results

Marian Blue: Emily Worth, Molly LaFave, Katie Petersen, Sarah Villarreal and Anna Vasko set a new school record in this event. They were the ladies team champion.

Sarah Villarreal and Anna Vasko were two shooters in a three way tie for first place individual. Sarah broke a 25 to take the gold and Anna took 2nd Place.

Katie Petersen tied for third place.

Sarah Villarreal had 50 straight in singles and 25 straight in the shootoff

Katie Petersen, Anna Vasko, Allison Zuerlein, Kelly McGonigal and Hannah Frisbie had perfect rounds of 25 straight.
---
Saturday was another picture perfect spring day. The day consisted of 75 handicap targets with yardage between 18 and 25 yards depending on the first day scores.

Handicap Results

Squad Blue with Emily Worth, Molly LaFave, Katie Petersen, Sarah Villarreal and Anna Vasko placed first in the ladies team handicap competition.

Squad DASH from Duchesne with Madison Webster, Kristan Foley, Anna Denman, Tara Webster and Maggie Vazquez placed third. This is the first ever top three finish for Duchesne

Madison Webster tied for first in Ladies Handicap and took the second place trophy

Tara Webster tied for third in Ladies Handicap.

Madison Webster had a 25 straight in handicaps.
---
Overall Results

Squad Blue with Emily Worth, Molly LaFave, Katie Petersen, Sarah Villarreal and Anna Vasko had the high overall ladies team. This is the fourth straight year that Marian Blue has had the top ladies team score.

Nebraska State Champions

Katie Petersen and Anna Vasko tied for first overall. Katie won the shootoff for the first place trophy and Anna finished second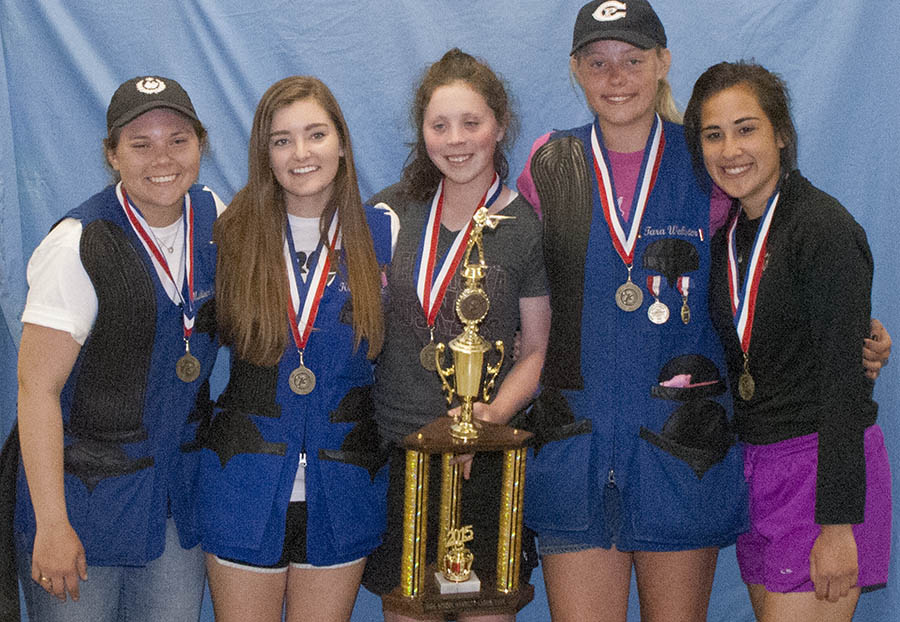 ---
Team Records
Blue set a team record in singles and tied the school record for overall score
Blue tied a Cornhusker trapshoot record for a girls team in overall
Sarah Villarreal and Anna Vasko tied the team record for singles
Katie Petersen and Anna Vasko set the team record for overall
Tara Webster set a team record for 24-25 yard handicaps

---
Personal Bests: (Cornhusker Nationals)
Molly LaFave Handicap, Overall
Sarah Villarreal Singles, Handicap, Overall
Emily Worth Singles, Overall
Katie Petersen Handicap, Overall
Anna Vasko Singles, Overall
Lily Foley Singles, Handicap, Overall
Kelly McGonigal Singles, Overall
Allison Zuerlein Singles, Handicap, Overall
Hannah Frisbie Singles, Overall
Madison Webster Singles, Handicaps, Overall
Kristan Foley Singles, Handicaps, Overall
Tara Webster Singles, Overall
Rebecca Keeler Handicaps
Lauren Smith Singles, Handicaps, Overall